Tax Preparation

---
A lot of small and medium business establishments, tax firms and CPAs around the world struggle with time restrictions during the busy tax season and deal with reduced utilization during the off-season. We as an ideal tax outsourcing company can help you deal with the difficulties faced at the time of an extremely condensed tax season. Our CPA tax preparation services can improve efficiency and profitability by freeing your firm's resources to concentrate on higher-value client solutions and attain more desirable work-life balance – triggering superior employee & client satisfaction.
Our 5-Step CPA Tax Preparation Process

---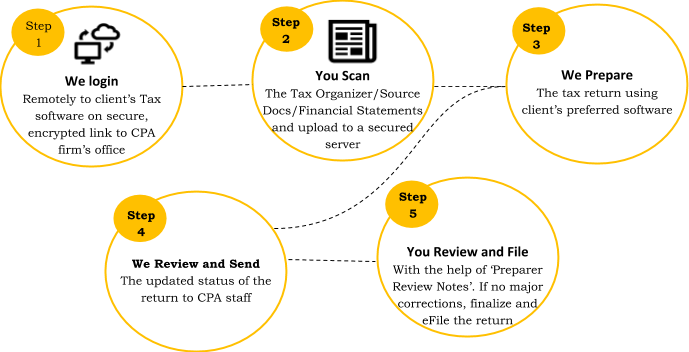 How Do We Prepare a Tax Return? We examine your balance sheets and other relevant data and classify all items appropriately, before we begin processing and preparing your tax return. While preparing and processing your tax returns, we analyze and interpret profit and loss, in addition to treatment and taxability for different accounts in the course of providing outsource tax returns preparation and processing services. Before the tax return is finally prepared, we communicate our observations, comments and viewpoints to you. Our team for preparation of tax returns is well trained and qualified. We regularly upgrade our skills and knowledge in leading tax software and statutory laws through on-going training. By outsourcing to a tax preparation company, a business entity or CPA firm can reduce costs by up to 50%-60%. You will have more time to focus on your core operations and reduce stress, besides saving on cost. We receive data related to tax returns in one of three modes:
Remote access based
Secured server based
E-mail based
We scrutinize the information and feed it into tax software of your choice. Following data entry and processing, we audit the information to ensure that it is correctly accounted for and entered. After that, we transmit the returns back to you through the transmission process you choose, along with our observations and comments. When the return reaches you, you can finalize, modify and review the information as required and return it to us. We then update your tax file and send the final copy to you for filing.